Some more impressions of the day in the camp:
24.00: Update: It's not ten buses waiting, it's twenty. Additional 1000 persons will have to sleep outside tonight.
23.00: The border crossing is still blocked by protestors. Greek police has completely left the border zone. Right now around ten buses are arriving. UNHCR reports that they have no clue how to accommodate the newly arriving persons. Obviously they have enough stored goods, but no staff to distribute it.
19.00: Still hundreds of protesters in front of the fence. The border crossing is blocked, nobody can pass right now. The camp is getting crowded as new people still arrive.
17.00: Protesters shout 'Etihad' (United) to gather all nationalities in front of the fence.
16.00: Protesters have teared down the fences of the crosspoint. Situation tense. Greek police doesn't intervene.
15.00: Hundreds gather at the crosspoint as rumours have spreaded that border would be opened in 2 hours. Macedonian police/army has strengthened its presence with water cannons and riot units. We have no confirmed information about border opening.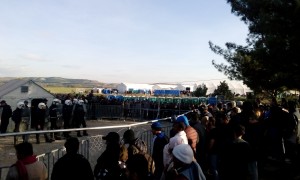 13.30:  Hundreds of refugees tried to pass the fence at its end and just came back to the camp. They reported, that Macedonian army/police was entering Greek territory and shot on them with rubber bullets. Furthermore, they told about warning shots in the air.
13.20: Yesterday evening, about 30 buses arrived. This resulted in chaos this morning at the crossing point. The cage surrounding it, was destroyed.